BLITZ-RIG demo
IMAGE G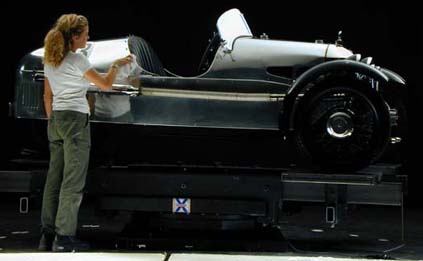 This site is a demonstration of the IMAGE G BLITZ-RIG matting process. In particular it compares three popular approaches to automotive matting: BACKLIGHT (such as blue and green screens), RINGLIGHT (using retroflective "front screen material") and the BLITZ-RIG.

The test subject is the 1933 MORGAN SUPER-SPORT three-wheeler rebodied by its owner GARY BYRD in polished aluminum. It is a particularly difficult subject because of the reflective surfaces. Aside from a light tint to the windscreen, no special treatment has been applied to the car.

The camera used is a NIKON COOLPIX 950 digital camera set at high resolution. The images were composited and then "downsized" for the website as JPEGs. No post production matte adjustments have been made. This is a "straight" comparison with BLITZ-RIG demo.

The images are presented for evaluation purposes only and are not to reused without the expressed permission of Image G.
copyright ©1999 Image G Corporation.